A feeling of renaissance is now fully on track in Greater Kansas City. The KC Streetcar is at the heart of it all as a stunning example of our city's commitment to revitalization and our future workforce population.
"Kansas City offers a great experience," says KC Streetcar Authority Executive Director Tom Gerend. "The KC Streetcar is all about connecting people to that experience in a smart way that makes it even better."
Connecting people to the Kansas City experience has a lot to do with effectively connecting them to key areas of town where they live, work and play. The KC Streetcar is designed to bring all of it together as a 'smart' resource. Gerend says that means making everything about the line useful, simple and convenient.
"If you don't make public transportation truly useful, people will avoid it. We've been really proactive about removing barriers and creating opportunities through technology, like a mobile app and kiosks that track each car and allow you to plan and make efficient decisions based on where you are, where you're going and what's available."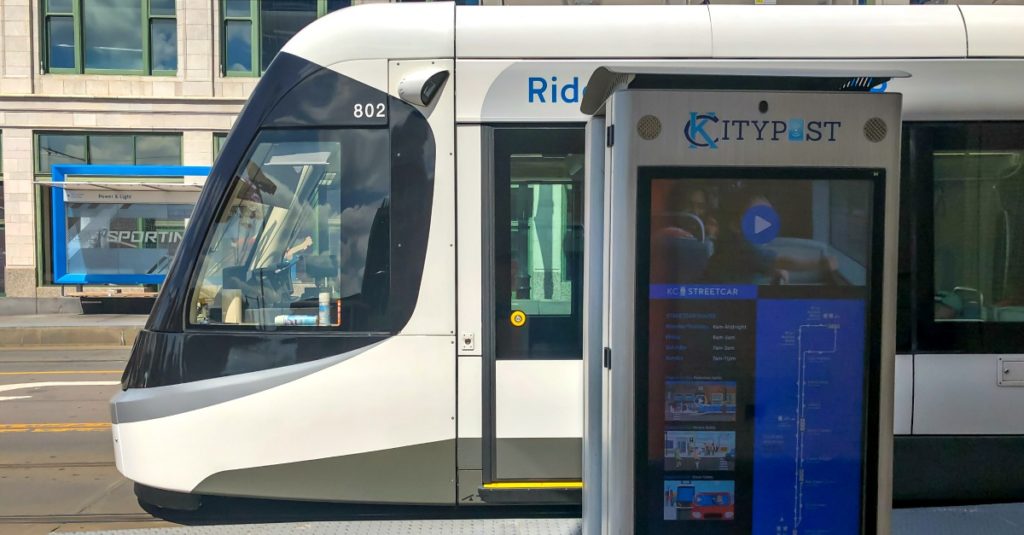 Gerend says the KC Streetcar's initial 2.2 mile route is intentionally short. The main goal of its simple, north-south orientation was to link major assets along the route from River Market to Union Station.
"We wanted it to be sort of the backbone of the downtown experience and the introduction of an idea that redefines how people look at, think about, and access the community. The Streetcar is inspiring people to explore what we have downtown and imagine the possibilities."
Many possibilities are on the table thanks to a successful launch that has Gerend and so many others thinking about where the ride could eventually take us.
"A big part of this is about putting a stake in the ground in terms of planning the future and encouraging growth. The Streetcar is already impacting employment and development. Downtown is no longer an appointment center. It's a neighborhood of 20,000 people."
Connecting Routes to the Future.
What if downtown was only the beginning? Planners are now eyeing a KC Streetcar extension through midtown near the Liberty Memorial, Westport and the Country Club Plaza, all the way to 51st and Main and UMKC. Gerend says an extension like that would really open everyone's eyes.
"We're talking about high-density residential and employment areas. The Streetcar would link them to everything downtown quickly and easily as an attractive alternative to using cars and dealing with parking. It could generate excitement and economic energy, and help create a framework for investment that informs the placement of office buildings and apartments. We're seeing that downtown already, so extending the route would simply extend those benefits."
The KC Streetcar's full potential could still be years or even decades away. Imagine routes across the metropolitan area. Gerend says the immediate success of the Streetcar is fueling more interest in a comprehensive expansion.
"I honestly believe that even before a route to UMKC can be completed, the bigger idea will be taking off. The extension toward UMKC is really being designed as the spine of a regional system."
Gerend says that system could involve linking South Kansas City, North Kansas City, other areas north of the river, downtown Kansas City, Kansas and KU Medical Center. He thinks Kansas City's east side will also be part of the conversation as well as substantial east-west routes that would link key areas and communities on both sides of the metro.
"It will be a larger, integrated strategy that factors in buses, bicycles, walking and even forms of transportation that haven't fully evolved yet like driverless cars and a regional hyperloop. All of it will need to be carefully pieced together to form a network that people will actually want and use. The Streetcar is really the launchpad."
A Smarter Track for Success.
Establishing a smart, connected and comprehensive public transportation system means rediscovering and rebuilding what Greater Kansas City already has to offer rather than focusing only on outward growth.
"The Streetcar encourages reinvestment in areas that are empty or underutilized," says Gerend. "The sewers, water lines, power, streets and sidewalks are already there. We're not having to put it in, which is a big part of what will be needed if we stick with a path of outward growth. So let's pursue a different kind of growth that can have a much greater, long-term advantage that's sustainable."
Businesses across the country are looking for the long-term advantage Gerend describes. He says the Streetcar and the economic dynamics that roll with it will convince companies to give the Kansas City area another look.
"What we're trying to do now with the Streetcar is a part of a larger trend in the U.S. We're sort of behind in building the kind of infrastructure and environment employers and workers want."
Gerend says the age of people living in the suburbs and working downtown is fading. Cities must offer more if they want to attract the workforce of the future.
"The demand is changing. There's a strong lifestyle preference emerging. More people are looking to live in a community where they can walk or use public transportation to quickly get to parks, shops and jobs. Instead of having two or three cars, they might have one."
That emerging lifestyle preference is a big part of the reason the Streetcar idea is generally no longer seen as experimental. It has largely proven itself beyond expectations. Gerend says the community's willingness to invest in the system and even tax itself says it all.
"We clearly want this for our neighborhoods. The fact that we're willing to pay to help make it happen is a very rare situation. It's working and making a difference. We wouldn't have public support if it wasn't."
Technology for the Long Haul.
Businesses wanting to contribute to the KC Streetcar's smart technology profile have been quick to jump on board. Several companies are joining the effort to give the system everything it needs for a perfect experience, from mobile app tracking and touchscreen informational kiosks to free Wi-Fi along the route and the potential deployment of air quality and traffic sensors.
One of the Streetcar's most important technologies is Commenco's Connect Plus Network. Riders don't use it, but the Streetcar depends on it. Connect Plus is an expansive two-way radio network that started coming online way back in the 1930s and now covers the entire region.
When Streetcar planners identified the need for reliable and secure radio communications between drivers, dispatchers and maintenance workers, Connect Plus was the perfect match. There was no need for infrastructure investment because Connect Plus is already built. All the Streetcar system needed to do was plug into it.
"We developed Connect Plus for commercial use," says Commenco Managing Director Gary Quint. "It now supports all kinds of businesses that work with fleet vehicles or staff spread out across the area. Everyone from landscapers to construction companies uses it."
Connect Plus is a radio system with a purpose-built voice and data network. It couldn't be easier to use and Quint says most importantly, it's incredibly reliable.
"We've got redundancies and backups built into key infrastructure points to keep the network up and running. The infrastructure has been developed over decades and is solid, and we have extensive experience maintaining it."
"It just works," says Gerend. "We rely on it every day. You know, we don't even have a full appreciation for how it works behind the curtain because we never have to think about it. We just know it's always there. We couldn't ask for a better system for our crews to depend on."
Crews also depend on Commenco's radios. Unlike most cell phones, the radios are specifically made for commercial use. Quint says that means easy operation and reliability under a range of circumstances, and rugged construction that can take the beating of industrial use.
"They're made for real-world use, work well indoors and outdoors, and aren't plagued with dead spots."
Gerend says as the KC Streetcar system continues to grow, so will its dependence on Commenco's Connect Plus Network. The system launched with ten two-way radios and now uses approximately 30.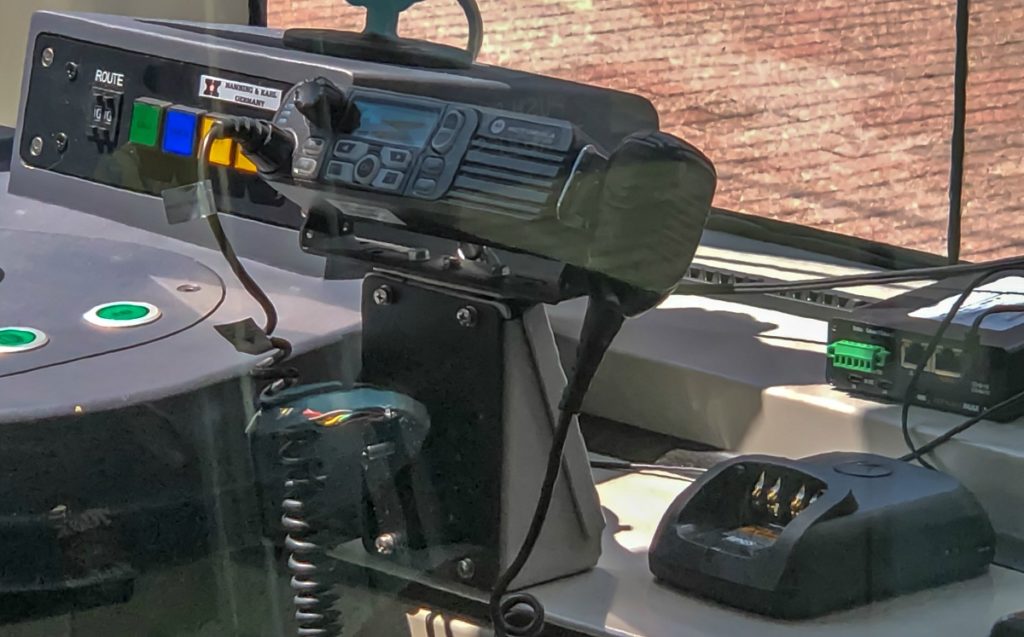 "We've got a great partnership. Commenco has been onboard since day one. As we bring on more staff and vehicles, we'll need Commenco's network even more. It's really important and we're fortunate to have it. It's been a strong point for us operationally and they give us great service to back it up."
Servicing the KC Streetcar falls right in line with Commenco's tradition of meeting the needs of the Kansas City community as it grows. Quint says it's an honor that makes his team proud.
"We always want to be, and always have been part of progress in Kansas City. If communications are involved, then typically we become part of the process. Whether it's commercial endeavors or 911 and other emergency response systems, we've always delivered."
And as the KC Streetcar delivers a cornerstone for building Greater Kansas City's future, Commenco will surely remain onboard. Like many of us who call this area home, Quint can't wait to see what's ahead.
"The KC Streetcar is already such a success. It's exciting to think about what tomorrow holds."
"The future will come with a variety of challenges," says Gerend. "But the KC Streetcar is sure to keep bringing energy back to local neighborhoods and continue carrying the spark that revitalization needs to make Kansas City all it can be for us now and for generations to come."
To learn more about the KC Streetcar, please visit KCStreetcar.org