Rugged Mobile Computers & Tablets
Rugged Mobile Computers provide efficiency benefits for a wide range of industrial applications. They are designed and built in order to withstand the rigors of tough working environments like warehouse operations, manufacturing floors, and field operations where outdoor environments present challenges that consumer devices are simply not built to handle. Commenco can help you determine what rugged products make sense for the challenges of your operation.
Industry-leading
technology solutions

Largest provider
in Kansas City
Support available
24/7/365
RELIABLE, RUGGED DESIGN AND BUILT-IN BUSINESS INTELLIGENCE FOR EVERY PURPOSE
To succeed in today's digitally connected business world, you need to give your workers the right tools to complete their unique work tasks faster, smarter and better. Mobile computing hardware and software tools can help them raise their performance.
We offer a range of mobile computer design forms to equip your workers for all use cases—from handhelds and tablets to wearables and vehicle-mounted computers. Our mobile computers feature robust built-in software intelligence that enables your workers to perform at their best, shift after shift.
Download the Zebra Mobile Computer Portfolio Brochure
Commenco has access to all of the equipment that you may need to streamline your workflows. To find out how we can help you get to launch, schedule a time to speak ta member of our team.
Commenco has access to all of the equipment that you may need to streamline your workflows. To find out how we can help you get to launch, schedule a time to speak to a member of our team.
Handheld Computers
Rugged mobile computers combine an intuitive user experience with a rugged design, making them ideal for the workers in today's dynamic warehouse operations. Capturing product and transactional data and communicating it in real-time has become the cost of doing business for competitive operations tasked with meeting customer expectations. The latest mobile computers are Android-based, come in many shapes and sizes, can scan near and far distances, have multi-shift battery life, and are rugged enough to meet the challanges of any environment. WiFi and cellular options are available for workers inside and outside your four walls.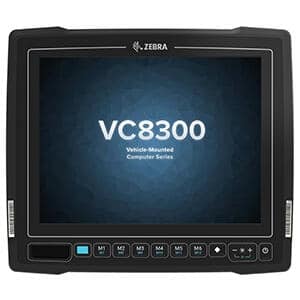 Vehicle Mount
Vehicle mount computers are designed to be mounted on forklifts and other industrial vehicles and can be connected directly to the vehicles battery. They are ideal in extreme temperatures, and are designed to handle shock and vibration. Vehicle mounted computers are eqquipped with multiple connectivity options such as Bluetooth and WLAN, and will read any barcode when paired with a Bluetooth or corded scanner. Their solid build quality ensures they are protected from dust and water and they accommodate workers even while wearing gloves.
Rugged Tablets
Rugged tablets are ideal for workers that need the computing power of an enterprise grade computer and the mobility of a tablet. They are built to endure rain, dust, shock, and vibration, all while keeping you connected and secure. A wide range of screen sizes are available with screen options to allow easy viewing in direct sunlight. Rugged tablets can be equipped with an integrated scanner for shorter distance scanning or paired via Bluetooth to a long range scanner for scanning barcode from longer distances.
Wearable Computers
Wearable computers are devices generally worn on the wrist and are ideal for workers needing their hands free to perform assigned tasks. These Android-based wearable mobile computers can be paired with corded or Bluetooth ring scanners to allow scanning of any barcode. Workers in eCommerce facilities need their hands free to pick cases and small "eaches" to fulfill orders and wearable computers are ideal for this purpose. Long battery life and touchscreen capabilities make wearable mobile computers ideal for fast-paced fulfillment centers.
Mobile Device Management
Mobile Device Management (MDM) software applications alow you to efficiently manage multiple device types such as: mobile rugged devices, mobile computers, handhelds, vehicle mount computers, wearables and laptops via a sinlge intuitive interface. They provide the tools for organizations to lockdown devices for business purposes only, to support and troubleshoot devices in the field, and to ensure that all devices are updated with the latest software or firmware to maximize device operation.
Equipment Rentals
Commenco offers rental on a wide range of rugged mobile computing devices to accommodate seasonal and temporary workforce demands. Contact Commenco to learn more about how our rental program can keep your workforce equipped for any demand.
Ready to BuilD, replace, or upgrade?
transportation & logistics
law enforcement & Public Safety