From public infrastructure to new homes, Kansas City's construction industry is booming. Crews, vehicles and machinery are on the move as demand builds for the communication tools that keep them organized and productive.
Opportunity Stretches Resources
"It's really, really busy right now. The whole industry is on a roll," says Commenco Key Accounts Manager Cheri McKenna. "Nothing is getting in the way, including the pandemic."
McKenna is hearing the same story from contractors across the board. If you're in construction, you're finding work. Maybe even more likely, it's finding you. New bids are pouring in and the scramble to mobilize all the right people and equipment has become a way of life.
High profile infrastructure projects alone tell the story. The new terminal at KCI is drawing contractors from all over, I-35 in our area is being rebuilt bigger and better, and a massive water treatment system of historic proportions is on tap in Johnson County, Kansas. Throw in a booming supply chain industry and one of the most active multifamily development markets in the country, and you can clearly see momentum with no signs of letting up.
"We're even working with local contractors spreading their crews as far away as Nebraska where that colossal Facebook data center is being built. It's not just Kansas City."
The growing construction boom is making ongoing labor and equipment shortages even more painful, putting pressure on contractors to stretch resources and make better use of them. Efficiency can make or break the ability to stick to tight timelines without sacrificing quality work, and that's why two-way radios are a rising priority.
Making the Most of Every Mobile Mile
Construction businesses have always gravitated to two-way radios. The well-known durability and reliability of the devices in all kinds of harsh conditions makes them go-to communication technology. It's not uncommon to see a specialized construction vehicle in our garage being equipped with a new radio or undergoing repair. But now we're seeing a steady stream of two, three or even dozens passing through.
"We're doing a lot of system installations and maintenance across fleets," says McKenna. "You'd be surprised at some of the do-it-yourself attempts we're replacing."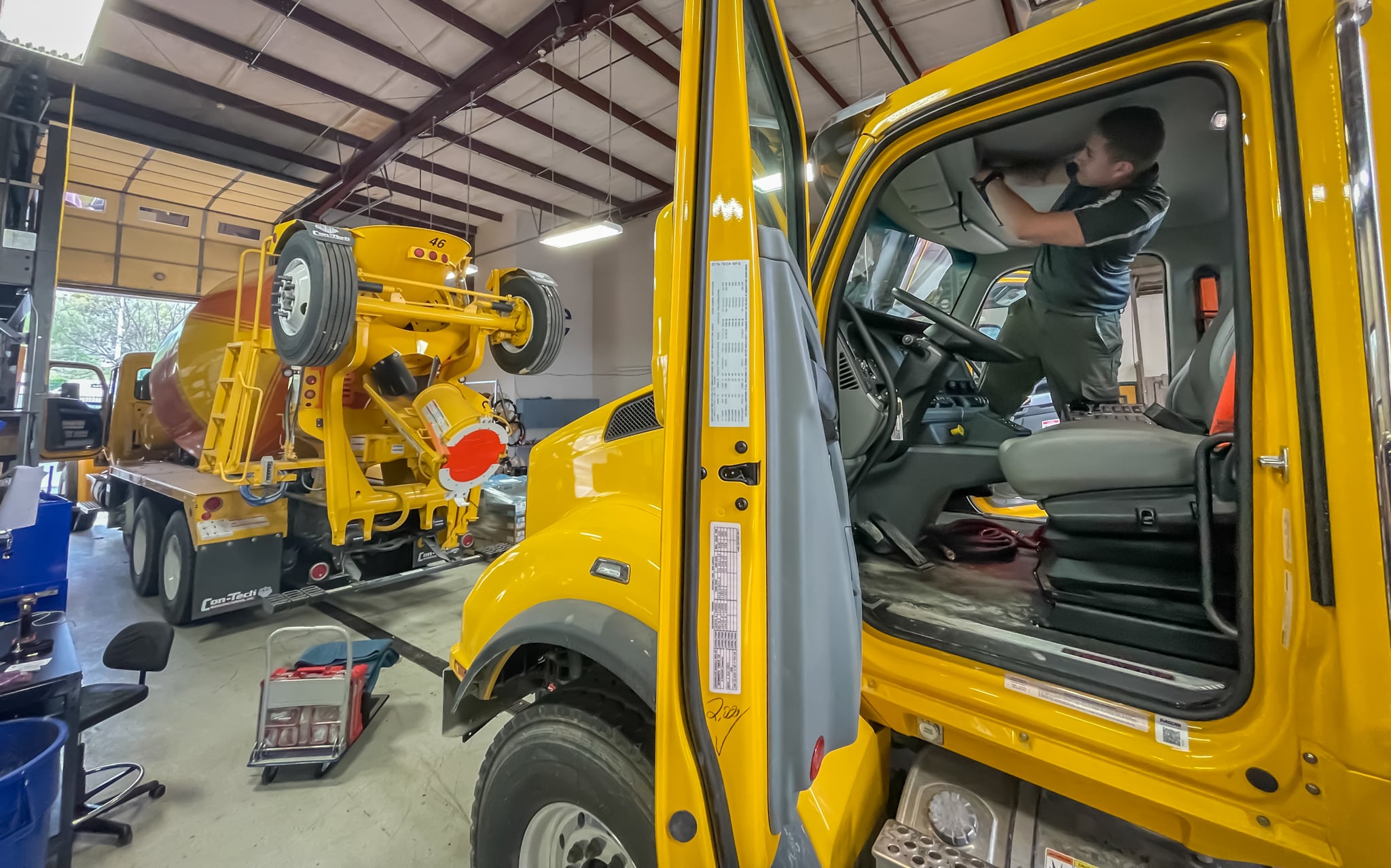 Push-to-talk ease and reliability make commercial two-way radios the smartest option for keeping construction vehicle drivers on the same page. The devices make organizing and coordinating movements around job sites a snap.
However, we still see other kinds of systems patched together in failed attempts to achieve the same goals. Drivers of dump trucks and other heavy duty vehicles try to get by with fragile consumer tablets, text messaging and even mobile apps that claim to mimic two-way radio functionality. McKenna says sooner or later, they wind up in our garage.
"There's really no comparison. Two-ways are the only way to go and there aren't any good work-arounds. Drivers can't afford the distraction of reading a bunch of data on a screen or dealing with typing. They also can't afford to struggle getting a cell signal. Too many complications. It just doesn't work. They need push-to-talk. And they all come to that conclusion one way or another."
On top of ease, durability and reliability, two-ways also create flexibility around group channels and private channels. Whether it's linking a few key managers or larger numbers of drivers and vehicle operators, two-ways clear paths toward working smarter.
"One of our bigger jobs currently is helping with the consolidation of smaller cement mixing companies under one owner," explains McKenna. "They were all using different ways of communicating with each other and dispatchers, so we're installing a single system across all of the vehicles to make everything more efficient and productive."
Radios Built Into Budgets
From small firms with only a few field workers to huge general contractors orchestrating large project sites, many construction businesses are already believers in the two-way radio advantage. They rely on the devices to easily organize and coordinate the movements of both roaming vehicles and workers on the ground, whether the distance is a few blocks, a few miles or cross-country.
"Two-ways have become standard for many construction operations," says Commenco Rental Manager, Jeff Quint. "Renting is often a convenient option because they don't have to deal with much maintenance and other responsibilities more tied to ownership."
Quint says construction budgets have powered right through the pandemic and two-way radios continue to be key line items as the industry booms. When new project plans are drawn up, a new round of radio rentals is attached, and the cycle keeps rolling along. "I've got orders coming in every month for several months. Sometimes rentals can span a year or more."
For highly-mobile contractor teams, two-way rentals are an especially critical solution. Quint says crews can hit the road with their radios and be gone for a long time. "I just got off the phone with a welding contractor that sends people all over the country. Two-ways are just right for the way they work and for anyone who can't be sure where tomorrow will take them."
Simply put, two-way radios and construction just go together. You won't see us doing much advertising for radios, especially rentals, when it comes to the construction market. Word spreads like wildfire in builder circles without any additional help.
"Contractors talk," says Quint, speaking from years of experience. "When they need a solution, they just ask around, and that's how we get most of our business. Once you try two-ways, you won't want to work without them."