New sensor technology combined with radio immediacy promises to save lives.
Time is rarely more critical than after a gunshot rings out in crowded places like schools, hospitals or government buildings. Rapid communication of the incident to emergency response teams and officials on-site can help minimize the extent of injuries or loss of life at the scene. Commenco's partnership with Response Technologies already delivers the fastest active-shooter solution on the market and now it's even better thanks to breakthrough gunshot sensor technology.

The breakthrough is just now leaving the testing stage and could be adopted quickly in the Greater Kansas City area and across the country. It can make a significant difference in any environment where people gather, including large manufacturing facilities and the towering office buildings in downtown Kansas City.


Smarter Gunshot Sensing
Gunshot sensors are not all that new. They typically include infrared vision and sound spike sensing technologies to detect and identify a gunshot. Infrared in particular is not ideal and has some serious limitations. As Tony Bradberry of Response Technologies explains, it sort of works like your television remote.

"The problem with infrared is it requires a line of sight like your TV remote. If you don't point your remote directly at your TV, it's probably not going to work. Similarly, if an infrared sensor can't see a gunshot, it may not detect it."

Bradberry says the company's new Gunshot Detection Sensor powered by Shot Tracer® technology replaces infrared with the ability to measure sudden, dramatic changes in air pressure. No line of sight is necessary.

"We're using volumetric measurements that track more of the space on the whole, not just the visual space. Our Gunshot Detection Sensor can look around the corner where infrared can't. It can look above and beneath objects that would otherwise block infrared sensors."

Detecting both a sudden change in air pressure and the sound blast that comes from the barrel of a gun puts the new Gunshot Detection Sensor in a class all its own, further enhancing the ability to detect and identify gunshots accurately.

"We're doing better than relying on infrared technology. We're measuring explosive force both in terms of sound and pressure. Those two measurements have to spike within half a second of each other to confirm an actual gunshot. Just a loud 'bang' sound alone isn't going to qualify and that cuts the risk of false alarms triggered by something like a door slamming."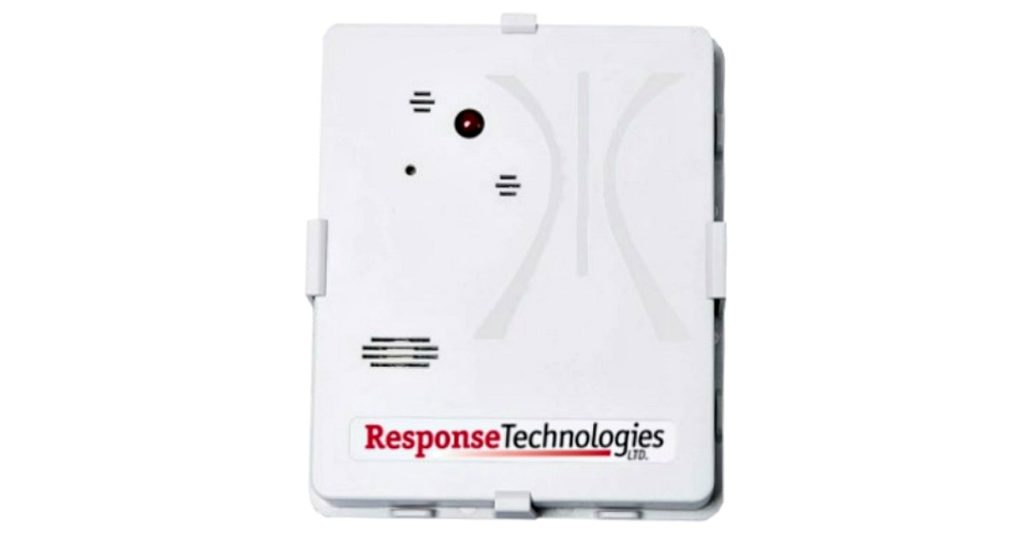 Speed to Saves Lives
Many emergency notification systems relay alerts through a third party monitoring service or require complex software processing. The problem is that takes time when every second counts in an active-shooter situation. Bradberry says how fast the new Gunshot Detection Sensor works together with the company's Centurion Elite notification system makes the combined solution especially valuable.

"After a gunshot is fired, the sensor determines whether or not it was a gunshot within approximately one second. A half second later, the detection is hitting the full Centurion Elite system. And then about a half second after that, the system is sending that information to the appropriate people through various channels, with the fastest being radios. So from gunshot to radio notification, it's all happening in about two seconds."

Commenco Managing Director Gary Quint says the direct relay to radios is the key to maximizing the potential of the new sensing and notification technologies.

"There's a reason why first responders depend on radios. It's just the quickest way to communicate. So the way these new Gunshot Detection Sensors work with Centurion Elite to communicate directly through radios proves the system's unique value when shots are fired."


Making a Cutting-Edge System Even Better
Other gunshot sensors are available only as stand-alone equipment, but Gunshot Detection Sensors from Response Technologies can be easily added to the Centurion Elite® Notification system. Response Technologies representative Brent Jones says the bundled solution is a smarter and more efficient approach.

"When you add new Gunshot Detection Sensors to the Centurion Elite's package of features, such as panic buttons and entrance and exit monitoring, you have a comprehensive solution you can really trust and it's going to cost less than buying items separately. And when you consider that the whole package is scalable, customizable and seamlessly integrates with existing information technology systems, it's an even better option and less expensive than implementing an entirely new alarm system."