Investigate integrated technologies intended to guarantee manufacturing plant safety across your facilities, from early detection to ultimate response.
Industry-leading
technology solutions

Largest provider
in Kansas City
Support available
24/7/365
Modern manufacturers are now tasked with constantly improving processes, ensuring uptime, and maintaining visibility throughout the manufacturing process. The push toward smart manufacturing and Industry 4.0 is integrating increasing connectivity and automation into everyday workflow in order to manufacture high-quality goods while reducing costs and downtime. Businesses hope to accelerate progress by integrating machines, people, data, and value chains throughout their facility. The shift toward "smart" factories, which may produce quantifiable business results, is expected to drive industrial competitiveness over the next five years. All of this must be done while maintaining a secure and safe working environment for personnel, guests, assets, and property.
It can be difficult to manage your company's various departments and equipment. Detection is critical in regulating various points of entry, monitoring worker safety, and securing and monitoring vital places and equipment in order to increase situational awareness and shorten response times to potential difficulties and operational problems. In integrated video security, artificial intelligence is used to provide comprehensive visibility across your heterogeneous facility from a single point of view. Push notifications to devices, rapid lockdown capabilities, and entry management are all available with access control. Radio alerts ensure that everyone on the team—and across multiple teams—is immediately aware of critical information. Alarms and sensors are used to track and maintain plant productivity as well as worker safety. All of this data combines to provide you with superior insights, ensuring that you always know what's going on in your operation.
You are in charge of keeping an eye on a sizable building that is crammed with people, secure rooms, big spaces, important supplies, and machinery. It is a difficult job to identify undesirable people, follow people of interest, find missing inventory, and identify dangerous circumstances in this setting. Appearance Using search features, you may quickly and easily look through video footage of the parking lot or plant floor to find people or vehicles of interest. Video analytics track movements across the whole facility in real time and identify potentially dangerous or suspicious behaviour. When evaluating a scenario, the Focus of Attention interface increases efficiency and improves response times by swiftly drawing your attention to areas of video security importance. Finally, these solutions and insights are critical for cutting through the noise, proactively locating points of interest, and recognizing which events are important — so you can keep your eyes on the scene and make an informed decision to act. Finally, these approaches and perceptions are critical for sifting through the noise, anticipatorily identifying points of interest, and determining which occurrences are significant — so you can assess and decide whether to act.
Whether you're a job site foreman who needs to communicate with your floor staff, plant management, and other areas of the plant on a regular basis, or a response team dealing with a large-scale emergency like a dangerous accident or hazardous material spill, clear and prompt communication is critical to keeping your teams connected and informed. When radio communications are required, they connect security, response teams, floor staff, field employees, the factory foreman, and local first responders instantly and reliably. Broadband push-to-talk with multimedia capabilities broadens your reach by allowing you to exchange speech and data information across devices to individuals in other buildings or off-site. Using mass notification capabilities, you can quickly communicate and share information with your entire team. Connectivity is essential for staying aware and informed across devices, networks, and locations.
Your response teams and facility staff must communicate with one another whether it's a routine occurrence or an emergency circumstance in order to organize a response as effectively as feasible. Being prepared and informed is essential to helping your team respond swiftly to events or issues before they get worse. This will help you reduce downtime, preserve productivity, and protect the health and safety of your employees. Situational awareness is improved via dynamic interoperability, which makes it simple to directly communicate data with response team members in real-time. The logging of incident reports is simplified by incident management, which also makes it simple to share multimedia with other staff members as necessary and to inform future decisions about operational and security processes as well as safety and security. 
Tracking work orders and closing out are made simple by work order ticket management. Directly from your radio, work order ticket management makes it simple to track work orders and close off tickets quickly and efficiently. Because enabling quick action and keeping track of previous instances may be essential to preventing incidents from turning into catastrophes.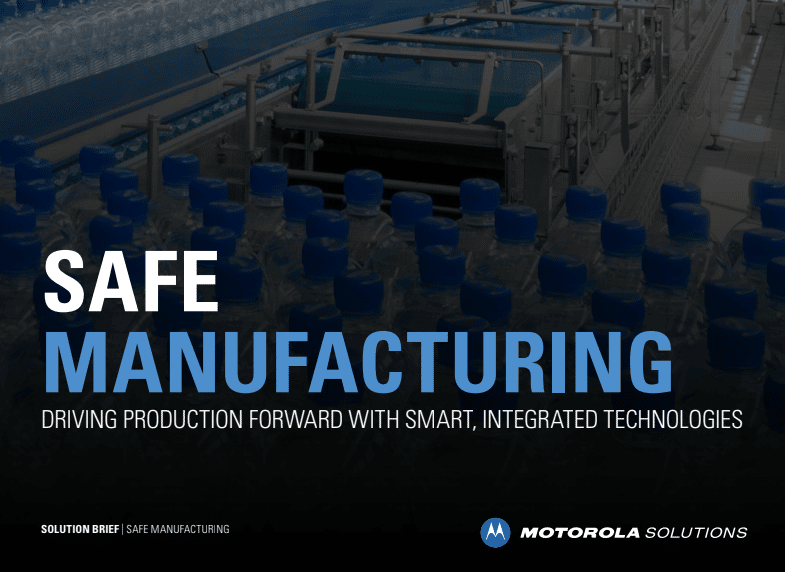 Explore integrated technology designed to ensure manufacturing plant safety ranging from initial detection to final response across your facilities.
Technology solutions for Manufacturing
Intelligently connect your staff and first responders to detect, analyze, communicate, and respond to every day instances and emergency occurrences. Motorola Solutions can help find the right solution for you while helping prevent situations before they become critical.
We carry rugged handheld barcode and RFID devices including readers, printers, and more. Commenco also provides industrial labels and printer supplies to ensure you can keep track of materials.
Nitro™ is an affordable, out-of-the-box, private LTE solution that runs on the Citizens Broadband Radio Service (CBRS) spectrum.
CBRS allows for more efficient allocation of the spectrum, which mitigates interference and provides users with full access to reliable on-demand wireless service with equal and predictable performance at all times.
Not only does Nitro™ have 2x the capacity of conventional wi-fi so more devices can be connected without compromising speeds it also has 4x the range of consumer wireless and utilizes fewer access points to cover the same space.
Camera & Video Systems & Installation
Our surveillance hardware combined with Artificial Intelligence-enabled video analytics software means the system learns what a potential threat looks like so it can be flagged before it becomes a problem.
Appearance Search
Facial Recognition
"Focus Your Attention Here" Notifications
Forensic Search Capabilities
License Plate Recognition
Next-Generation Video Analytics
Self Learning Video Analytics
Unusual Activity Detection
Unusual Motion Detection
Access Control Solutions & Installation
Access control technology allow you to control one or all doors in your facility 24 hours a day. Our team can design, install, and deploy your new system, regardless of who manufacturers it or where you bought it from.
Commenco partners with software companies to embed intelligence, apps, and utilities into our hardware to give your team a custom solution.
Commenco can help you design a custom wireless communications solution during the construction of new facilities.
Have questions or want to test out equipment?
safe manufacturing solutions
access control
license plate recognition
Camera & Video
Nitro CBRS Private LTE
WAVE ptx/tlk
Incident Management
TWO-WAY Radio
Wireless Device Technology